Lhasa Weather & Seasons
With deep blue sky, sparkling rivers, mystery, religion, architecture, and the simple and unsophisticated Tibetan people, Lhasa is definitely many travelers' dream destination. The air here is thin and the temperature is comparatively low. The temperature differences between day and night during a single day can be large.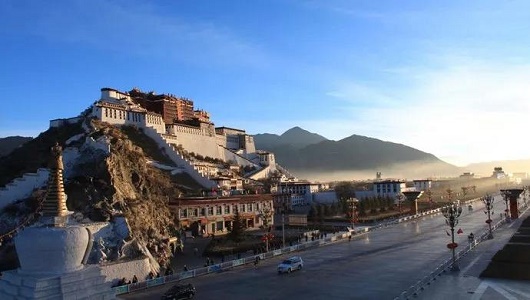 As in the Qinghai Tibet Plateau, Lhasa is typical highland temperate semi-arid monsoon climate,with clean but thin air . It is usually mild all the year round without cold winter and hot summer.  Most of days are sunny with fewer rains, which gives Lhasa the name of "city of sunshine".
The average temperature in Lhasa is 8.3 °C (47 °F). The warmest average temperature is 24 °C (75 °F) in June. The coolest average temperature is -10 °C (14 °F) in January. Lhasa receives on average 406 mm (16.0 in) of precipitation annually or 34 mm (1.3 in) each month.

Average Temperature by Month

| | | | |
| --- | --- | --- | --- |
| Month | Min Temp(℃) | Max Temp(℃) | Recommended Rate |
| Jan. | -10.2 | 6.8 | |
| Feb. | -9.2 | 6.9 | |
| Mar. | -3.2 | 12 | |
| Apr. | 0.9 | 15.7 | ✔ |
| May. | 5.1 | 17.9 | ✔ |
| Jun. | 9.2 | 22.5 | ✔ |
| Jul. | 9.9 | 21.7 | ✔ |
| Aug | 9.4 | 20.7 | ✔ |
| Sep | 7.6 | 19.6 | ✔ |
| Oct. | 1.4 | 16.4 | ✔ |
| Nov. | -5 | 11.6 | |
| Dec. | -9.1 | 7.7 | |
Seasons to Go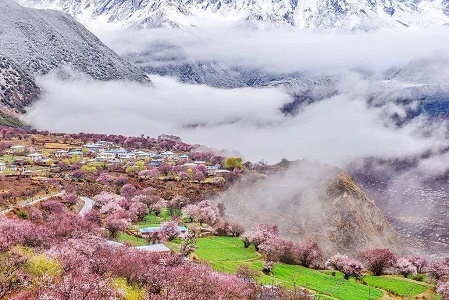 Spring

Spring in Lhasa is dry and starts to get warm but sometimes it is a little bit chilly. Sunshine in spring is plentiful and pleasant. Plan to visit Lhasa in spring, you will get a great discount because there are fewer tourists.
Seasonal Activities

Visiting the monasteries (Jokhang Temple, Sera Monastery, Drepung Monastery, Ganden Monastery) and Potala Palace under the comfortable sunshine.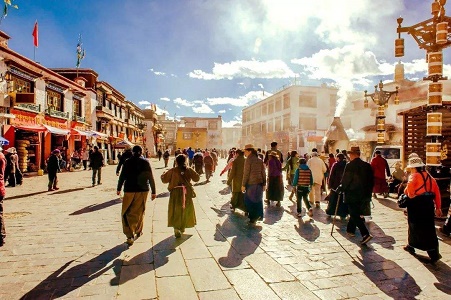 Summer
Summer is mild with some waterfalls. But ultraviolet rays are strong in the day time, so please remember to bring sunglasses and sun screem. There is a big range of temperature between daytime and night. So a jacket or sweater is highly suggested to be packed.

Seasonal Activities

Camping around the Namtso Lake is strongly recommended in this season. You can also relax yourself in the hot spring of Yangpachen.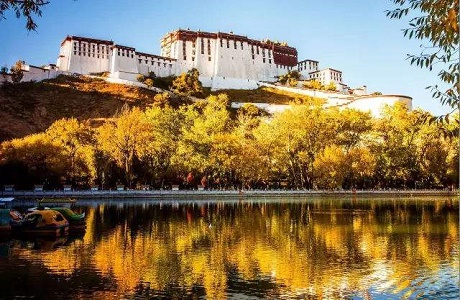 Autumn

Autumn is believed to be the best time for Tibet travel. It is cool and mostly sunny days with blue air and floating thin clouds. Prepare long-sleeve shirts, sweater and overcoat for early morning and night.

Seasonal Activities

Yangpachen trekking and camping around the Namtso Lake.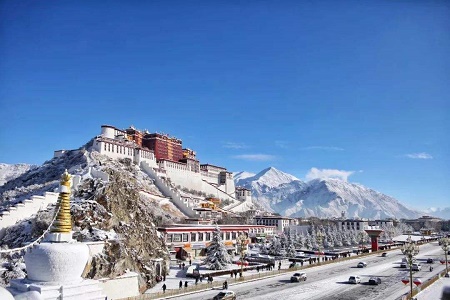 Winter

It is not as cold as most of other areas of Tibet in Lhasa when winter comes. But it is windy with small degree. In the daytime,  is very warm with sunshine. The average temperature is about 10 °C.Actually, if you plan to visit only Lhasa and surrounding area in winter,just come here without any hesitation,only need prepare winter clothes, sunglasses and lip balms,because the weather is not very cold and the hotel and tour rates are cheaper than usual.
What to Wear:
Despite the amount of sunlight in Tibet, the daily difference in temperature is still big. It is chilly at night even if the day here is sunny. Most hotels in Tibet have no central heating. Also, someone may intend to watch the sunrise at Mt. Everest or Namtso Lake.Therefore, bringing winter clothes is a wise choice. Generally a T-shirt, overcoat and jeans are also indispensable.To avoid being hurt burnt by the strong ultraviolet rays in this high-altitude area, it is suggested  that you take sunscreens and sunglasses. What's more, for it is usually windy and dry here, a protective lipstick is also necessary.