Various transportations of Lhasa 
◆Get to/away from Lhasa

Tibet is one of the most mystical and spiritually holy places on earth. Famous for the most sacred Potala Palace and not forgetting Mt. Everest, the world's highest peak.Here you will also meet the hospitable and ingenuous Tibetan people with their unique folk customs. Maybe 10 years ago the transportation to Lhasa is single and not convenient ,and in that time  Lhasa is not accessible to the people who want to travel here.But now the big change happened here,we can travel to Lhasa by various transportations anytime we want. 
★By Fight
Lhasa Gonggar International Airport
Lhasa Gonggar Airport is one of the highest airports in the world,which located in the Gonggar County, about 60km away from Lhasa city downtown. After more than 40 years operation,now Gonggar Airport  is well-equipped and safe. It connects Beijing, Shanghai, Chengdu, Chongqing, Xian, Guangzhou, Kunming, Diqing, Chamdo, etc. Besides, there is one international airline running between Lhasa and Kathmandu.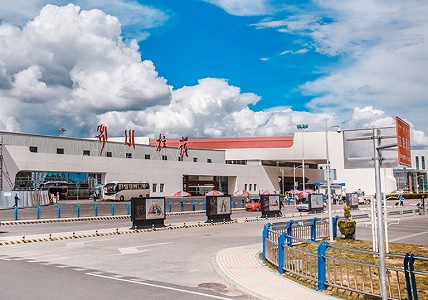 A well-conditioned highway connects Gonggar Airport and Lhasa city. It takes about one hour to drive from the airport to the downtown. Independent travelers could choose to take airport shuttle bus or taxi. There is one shuttle bus running from the airport in every half an hour in the high season and 30 ~ 60 minutes in the off season. The ticket price is 35 RMB. Taxi is also available and cost about 150 RMB. If you book a tour from Travel Sichuan Guide, you won't need to worry about the transfer and our local guide and driver will pick you up and escort to your hotel directly.
★By Train
Lhasa Train Station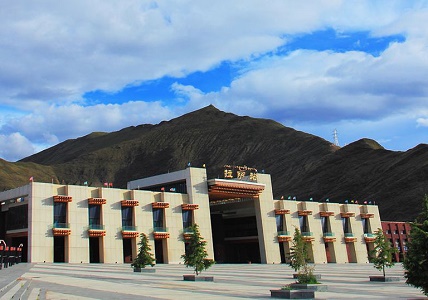 As the terminal station of Qinghai Tibet Railway,Lhasa Train Station located in the southern Lhasa and about 10 km away from the downtown,connects many major cities in China, such as Beijing, Shanghai, Guangzhou, Chengdu, Chongqing, Xining, and Lanzhou.Meanwhile, it is the main station of Qinghai-Tibet Railway, Lhasa-Shigatse Railway and Sichuan-Tibet Railway Station (under construction). Taking train to visit Tibet is a good choice if you are on a tight budget,becaues it can largely cut your budget down. At the same time, you can enjoy spectacular sightseeing along the road. Thanks to the Qinghai Tibet Railway, people have chance to explore this dream land by a special way which truly will be an unforgettable experience.
All trains provide three types of seats – softer sleeper, hard sleeper and hard seat. On each railway carriage, there is a bathroom and hot water supply. During meals time, the staff in each carriage will provide meals, fruit and other food to your seat by using a dining cars.You can also go to the dining carriage to have meals which is more convenient and have more choices. During your train journey period, you may suffer from High Attitude Sickness or feeling cold or others, please turn to the train staffs without any hesitation because every train equipped with a clinic which can provide basic medical care.  

★Long-distance Bus
Five highways stretching into the mysterious high land include Sichuan-Tibet Highway, Qinghai-Tibet Highway, Xinjiang-Tibet Highway, Yunnan-Tibet Highway and China-Nepal Highway. Only Qinghai-Tibet and China-Nepal Highway are open to foreigners at present. Qinghai-Tibet Highway starts from Golmud of Qinghai; it is 1,160 kilometers (720 miles) long and averages at 4,000 meters (13,120 feet) high. It runs along the Kunlun Mountains and vast grasslands which amaze people by their natural beauty. The China-Nepal Highway is another main road often used. It stretches for 900 kilometers (558 miles) from Kathmandu to Lhasa. The condition of most roads is so bad that visitors are advised to take Land Cruisers.
◆Get around Lhasa by train
★Beijing-Lhasa Train
There is one daily train running between Beijing and Lhasa with a distance of 3753km.
| | | | | | |
| --- | --- | --- | --- | --- | --- |
| Train No. | From | To | Dep.Time | Arr.Time | Duration |
| Z21 | Beijing West    | Lhasa    | 20:00pm | 12:30pm(of the third day)     | 40h20m |
| Z22 | Lhasa | Beijing West    |  16:10pm/16:30pm | 08:20(of the third day)   |  40h18m/39h58m |
★Chengdu-Lhasa Train
There is a express train go via the Qinghai Tibet Railway every other day,the distance is 3360km between Lhasa and Chengdu.
| | | | | | |
| --- | --- | --- | --- | --- | --- |
| Train No. | From | To | Dep. Time | Arr. Time | Duration |
| Z322 | Chengdu | Lhasa | 21:37pm | 09:55am(of the third day) | 36h18m |
| Z324 | Lhasa | Chengdu | 18:20pm/18:30pm | 07:00am(of the third day) | 36h40m/36h30m |
★Xian-Lhasa Train

There are two daily trains (including Guangzhou-Lhasa Train and Shanghai Lhasa Train) running through Xian and arriving in Lhasa.
| | | | | | |
| --- | --- | --- | --- | --- | --- |
| Train No. | From | To | Dep. Time | Arr. Time | Duration |
| Z265 | Xian | Lhasa | 9:45am | 16:19pm(of the second day) | 30h34m |
| Z165 | Xian | Lhasa | 11:24am | 18:25pm(of the second day) | 31h01m |
| Z166 | Lhasa | Xian | 11:25am | 20:34pm(of the second day) | 33h09m |
| Z266 | Lhasa | Xian | 13:10pm | 21:49pm(of the second day) | 32h39m |
◆Transportation in Lhasa

There are public bus, taxi, and rickshaw for you to wander in and around Lhasa city. ★Public bus 
Public bus changes only 1 yuan to 2 yuan. But it is not easy to find the bus stops and there is no English sign and radio on the bus.
★Minibus
A minibus is the main form of transport in Lhasa. It is a quick and convenient way to get across town. Visitors can easily find minibuses around Beijing Road and they operate a fixed charge of CNY 2 per person. Generally the bus starts operation late in the morning and stops early at night due to the temperatures.
Bus No. 1 and 2 goes through the Norbulingka to the coach station.
Bus No. 3 and 5 run to the Drepung Monastery.
Bus No. 4 runs to the Sera Monastery.
Bus No. 91 runs between the city center and the Railway Station. 
★Taxi
It is easy to hail a taxi on the street in the city. Usually, it only costs CNY10-15 to travel in town by taxi. 
| | |
| --- | --- |
| Flag-down Rate for First 3km (2mi)  | CNY10 |
| Fare between 3-8km (2-5mi)  | CNY2/km |
| Fare between 8-11km (5-7mi) | CNY1/km |
| Fare beyond 11km (7mi)  | CNY1 per 500m (550yd) |
Reference Taxi Fare:
To Drepung Monastery: around CNY20
To Jokhang Temple: around CNY30
To Sera Monastery: around CNY30
★Pedicab
Pedicabs are unique vehicles to get around downtown. A pedicab can carry two people and generally costs RMB 4 to 7. It is a more time-consuming journey than traveling by minibus but is an interesting and popular way to see downtown area.
★Bicycle
If your schedule and health permit, riding a bike is another pleasurable way to look around the city. Bikes can be rented from many hostels along Barkhor Street. Generally, the rental for an ordinary bike is RMB 2 per hour and RMB 20 per day; for a mountain bike it is RMB 3 per hour and RMB 30 per day.