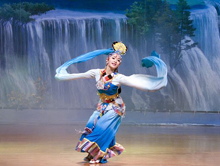 It is a carnival best representing ethnic customs and tourist culture of Jiuzhiagou, being held at a number of hotels outside the valley. At the party, you will have a taste of Tibetan and Qiang food, like roasted mutton, qingke liquor, buttered tea, and milk tea. This song and dance show adds to Jiuzhaigou much cultural appeal, and becomes an integral part of a full tour of Jiuzhaigou.
 Jiuzhaigou Folk Art Center

Jiuzhaigou Folk Art Center is next to the New Jiuzhaigou Hotel. There will be evening show every night in Jiuzhaigou Folk Art Center. Jiuzhaigou Folk Art Center is reputed as the Second View in Jiuzhaigou after the first sightseeing-Jiuzhaigou landscape. This center gathers the most excellent players of Jiuzhaigou, the most famous singers and the heir of the rare-ancient musical instrument of Qiang race. Their programs really inflect the life of Qiang and Zang minorities. Jiuzhaigou Folk Art Center provides bonfire party. The bonfire party is full Qiang and Tibetan folk flavors. Bonfire party also is the largest in scale and the only one to represent Jiuzhaigou folk culture perfectly. Every night when the lights are on, the actresses wearing flamboyant will stand in two lines to welcome the guests into the hall. Then there will be elegant Qiangzu girls to serve you Tibetan beverages and food such barley wine, Tibetan tea, grilled whole sheep and Tibetan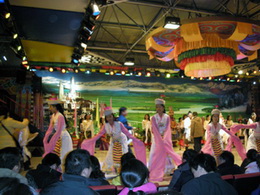 snacks. There will also be beautiful girls and handsome boys to send their guests with pure white Khata (Hada). Hada is a traditional ceremonial scarf used among Tibetans. It usually made of silk symbolizes good will, auspiciousness and compassion. Gifting Hada to arrivals shows hosts' highly welcome towards guests. There are folk dances, musical performances such as Qiang fluting and unique singing. You can not help to join yourself into the ardent shows and performances.
Zang Wang Yan Wu of Jiuzhaigou
Zang Wang Yan Wu is the name of a theater in Jiuzhaigou. Zang Wang Yan Wu also embodies the content of the show in this theater. The stardom of Zang Wang Yan Wu all are Tibetans and Qiang minority girls and boys. They will stand in two ranks as soon as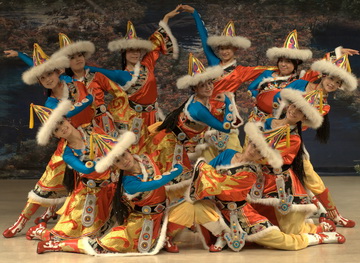 the arrival of guests. They will welcome you with impassioned applause and brilliant smile. Tibetan smart girls will send pure white Hada to guests to show their welcome and great respect. You will see three toastmasters firstly. Then it is time for the opening show- Princess of Tang Dynasty Marries with King of Tibet. The Tibetan singer will sing the Tibetan folk songs full of Tibetan Plateau flavor. Apart from singing, there are bright Qiang daces. One of the dances named 'Guo Zhuang' is the most popular one. Guests are invited to take part in 'Guo Zhuang' dance. Many programs will widen your view. They are 'Tibetan and Qiang Costume Show', 'Wedding of the Qiang Minority', 'Push and Pull by Scarf' and other folk-customs.