Chegndu to Jiuzhaigou by Bus:
There is no train to Jiuzhaigou right now, and the  flights to Jiuzhaigou are expensive during the peak travel seansons, usually from Jul. to Oct.  So most of the visitors choose to take the buses from While Chengdu to Jiuzhaigou.It has many shifts of buses departing to Jiuzhaigou, mostly in the morning to Jiuzhaigou.The buses leave from Chengdu chadianzi bus station and Xinnanmen bus station to Jiuzhaigou. It takes about 7 hours (almost a whole day) on the way. The bus goes along Minjiang River Valley (one of the ancient tea horse route) to its source Mt.Gonggangling. 
Jiuzhaigou Bus Station is located only about 1km to the ntrance of Jiuzhaigou National Park. Please be noted that should there is another Jiuzhaigou Bus Station which is located in the town of Jiuzhaigou County, 40km away from the park. So, when you book the tickets, make sure that you book the one to Jiuzhaigou national park. But the buses to Jiuzhaigou county will also stop at the Jiuzhaigou bus station near the park for the visitors to get down.

After your visiting Jiuzhaigou, you can also take the bus back to Chengdu. If you want to make further tour in Tibet area, you can also change your bus at Chuanzhusi or Songpan from where you take the bus to Huanglong or Hongyuan. Hongyuan is especially recommended by us because you can see the vast grassland there, and after that you can take the bus back to Chengdu via Miyaluo and Lixian county. By this route you can see more beautiful scenery.

 Chengdu to Jiuzhaigou by Air:
Another choice to Jiuzhaigou is by air, which is much more comfortable and safe, but as we said above it is more expensive. The Jiuzhaigou - Huanglong Airport is located at Chuanzhusi Township. It is 83km and 52km respectively from the Jiuzhaigou Entrance and Huanglong. Its official serves started on September 28,2003, via A319 and B737 airliners. It is easy to take a 45min flight, and then 1 1/2 hour driving to arrive there. There are more than ten-scheduled flights every day in busy seasons. The altitude of Jiuhuang airport is about 3500m.
Information of Buses from Chengdu to Jiuzhaigou:

Visitors can take the buses from Chengdu to Jiuzhaigou at 2 bus stations: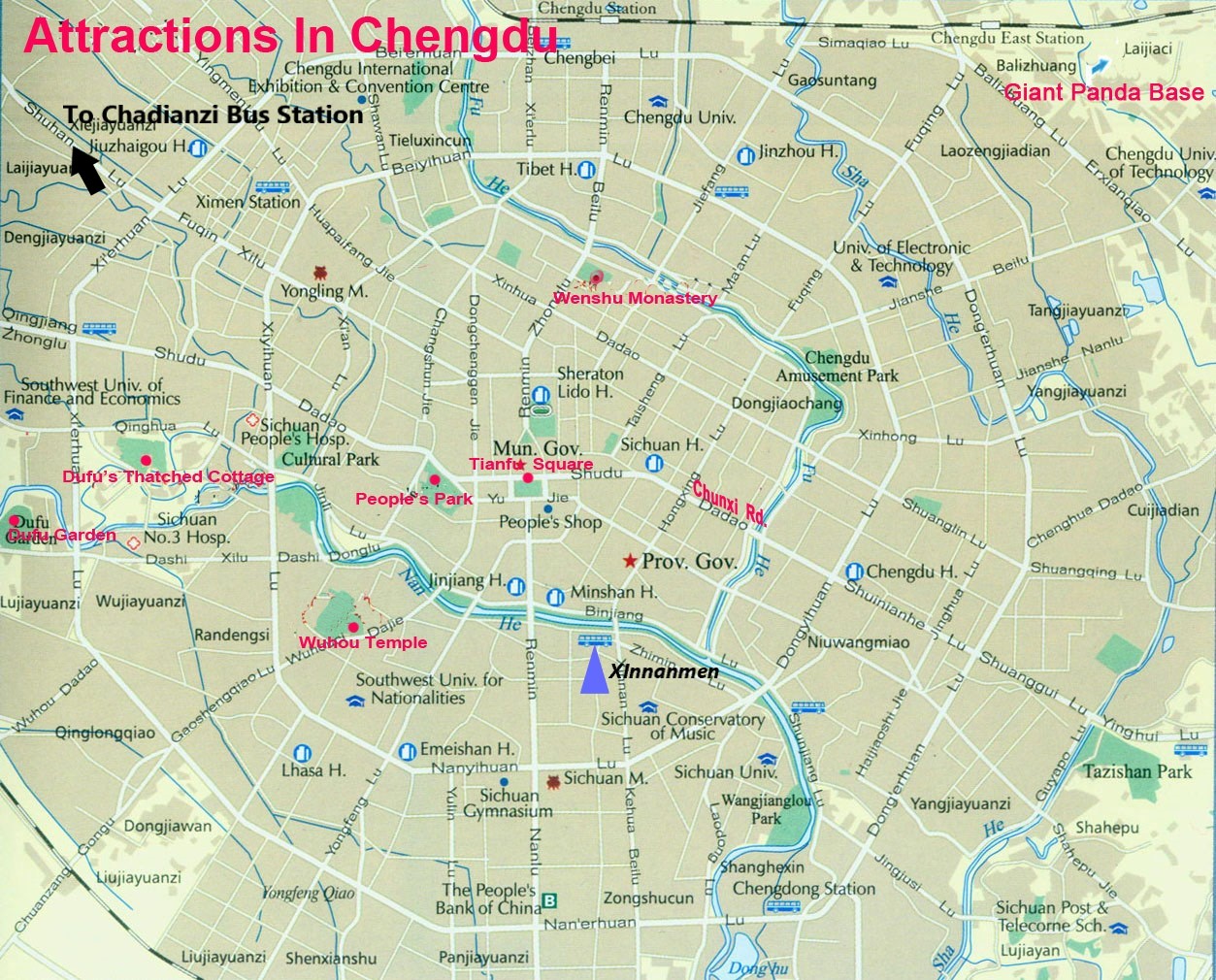 1. Chadianzi Bus Station
Address: No. 289, 5th Section, West 3rd Ring Road, Chengdu. You can take the metro line 2 and get down at Chandianzi bus station.

Service Tel: 028-87506610

It is easier to buy bus tickets for Jiuzhaigou here as it has quite a few shifts every day.  The earliest shift leaves  around 6:00-7:00am in peak season and 8:00am during low seasons. The prices differs from 110 to 170 RMB by the normal economical buses and luxury buses. Make sure with the ticket office that the the bus you take will go directly to or at least make a stop at Jiuzhaigou National Park. 
2. Xinnanmen Bus Station
Address: No. 2, Xinnan Road, Jinjiang District, Chengdu. You can take the metro line 3 and get down at Xinnanmen Station.
Service Tel: 028-85433609
Xinnan bus station is a bus station for tourists, many of the bus lines here are to the scenic spots including Jiuzhaigou. Other destinations are Leshan, Emeishan, Daocheng, Mount Siguniang, etc. Xinnanmen Bus Station has 3 shifts of  buses directly to Jiuzhaigou National Park istead of Jiuzhaigou county. The earliest one departs at 7:10am, Xinnanmen bus station is located in the downtown area and more convenient for the passengers staying in downtown of Chengdu.