Mounigou Valley - Tallest Calcified Waterfall in China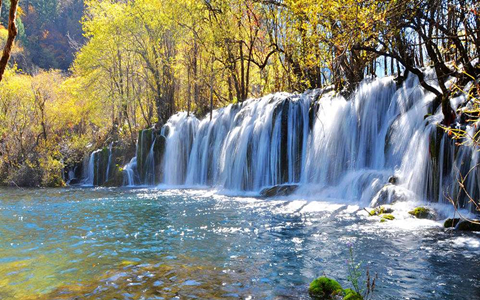 Type:Primeval forest, calcified waterfall,mountain lake

Best Seasons: All the year Around
Recommended Visiting Time: 2-3 Hours
Popular Activities: Sightseeing,taake a fresh breath
Opening Time: 80:00am-17:00pm
Entrance ticket:
1, The Erdaohai Scenic Area: 70RMB/person for the peak season
                                               60RMB/person for the off-season
2, Zhaga Waterfall Scenic Area: 70RMB/person for the peak season
                                                   60RMB/person for the off-season
3,Package: 100RMB/person for the peak season
                   60RMB/person for the off-season
 Address: Songpan county,Aba Autonomous Prefecture,Sichan,China
Overview of Mounigou Valley
Located in Songpan county, Aba Tibetan and Qiang Autonomous Prefecture, sichuan province, munigou Valley is a national 4A tourist scenic spot, also belongs to the Huanglong Natinal Park. Covering an area of 160 square kilometers, and over three hundred kilometers faraway from chengdu city. The highest elevation of it is 4070 meters, while the lowest elevation is 2800 meters,with an average annual temperature of 7 ℃.Mountains, water and forests are harmonious integrated here. The main scenic spots are: zaga waterfall, primeval forest, jade hot spring, hundred flowers lake, moon lake, swan lake and karst caves.
Highlights in Mounigou Valley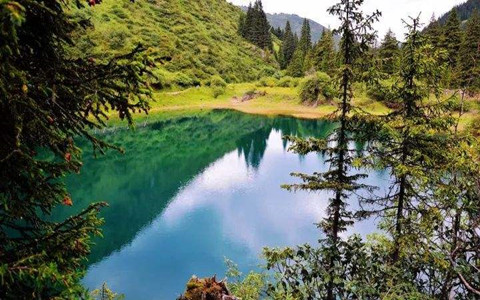 Erdaohai Scenic Area
Erdaohai scenic area is famous for its alpine lake (commonly known as haizi), which is composed of a series of small haizi.
Erdaohai is a narrow and long valley which 5 kilometers long and connected by plank roads,which named after the largest lake among them.

Wild Duck Lake 
The Wild Duck Lake is the paradise for the wild duck ,grey crane and other birds.For the tourists, Whenever you come to here,you colud see a lively scene of play including the wild duck and other birds whether in spring or in cold winter. 
Stone Forest
The stone forest in Mounigou Valley is the typical of Yadan Landform.Even the stone forest with a special geographical position and the perennial mountain wind blowing, the destory of sunshine and rain, the skillful hands of nature carved out these tigers, leopards, bears, deer, warriors and fairies, as well as shaped the outline of different plants and things.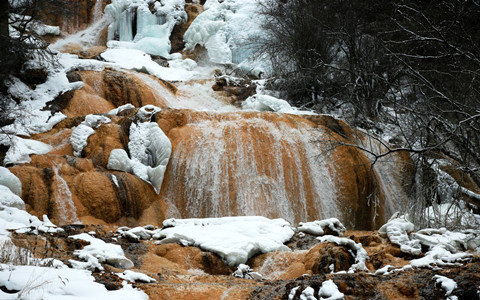 Zaga  Waterfall
Zaga Waterfall is the tallest calcified waterfall in China.Located at 3,270 meters above sea level, the waterfall is 93.2 meters high and 35 meters wide. The upper reaches are lakes and the lower reaches are a series of stepped riverbeds. Hundreds of layers of calcification ring waterfall jade string beads, through three steps of calcification steps down, impact into a huge calcification surface and form a huge white flower, waterfall sound like thunder. On the calcified wall of the second stage of the great waterfall, there is a "water curtain cave".
Hiking routes
1,Erdaohai Scenic Area: Visit this part, you should remember the 'left hand rule". After you enter into this part, you should choose the left road to avoid the road repeat and waste the time.
2,Zaga Waterfall Area:Visit this part, youshould remember the "right hand rule".