Xingwen county of Yibin city, with a Miao Nationality population of 50,000 that accounts for 12% of its populations, is the largest Miao-inhabited county in Sichuan province. Strong Miao customs, gorgeous color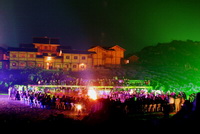 garments, refined embroidery, and local ethnic traditions of weddings and funerals are typical features of Xingwen,Yibin city. When traveling in Xingwen Karst, the funniest thing is to join the large Miao campfire party at weekends (except special shows at usual time). When night falls and visitors approach the number one Miao village of Karst, the melodious Lusheng music will immediately refresh your whole minds. 

The hospitable Miao Miduo (handsome guys) and dancing Miao Micai (pretty girls) will offer three big bowls of mellow rice wine. You'd better drink them up! Of course, the rice wine, also called Roadblockers' Wine, is an old tradition to greet faraway guests. After the wine, you can seat yourself around the flaring fire to enjoy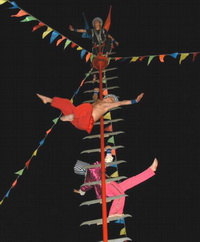 the original Miao Lusheng dances of southern Sichuan like Harvest Celebration and Drum Sacrifice, the bilingual song of Welcome to Miao Mountain in Miao and Chinese languages, the percussion ensemble of Mountain Village Customs, and so on. At intervals, some special guests will be invited to involve in some fun programs, and a bowl of wine is the punishment for your misdoings. The climax of the party is the performance of Heyeyufei, the direct Bo successor. His stunts are licking the burning red iron sheet, swallowing bamboo chopstick, climbing the knife pole and diving into the fire sea, and more. All you can experience is a thrilling feeling that challenges your guts.