Suoxiyu Nature Reserve
The Suoxi Valley Nature Reserve is the center of the scenic zone and is the largest among the four areas of the park. About 200 attraction spots can be found here. The name of Suoxi Valley is transliterated from the language of the Tu Minority Group, and it means "a mountainous village with dense fog". This area includes the Ten-mile Gallery (Gan Xi Gou), where vivid pictures formed by its peaks are rather impressive. The West Sea, also called the sea of stone forests, is fantastic and amazing. Bao Feng Lake is also an excellent place to visit to experience and gain an understanding of the local customs of West Hunan Province.

Yellow Dragon Cave

Yellow Dragon Cave, also Huanglong Cave , is the underground-lost palace which known as the most beautiful cave in the world by UNESCO Experts. With an area of 100,000 square meters, length of 7.6 kilometers, height of 140 meters, two underground rivers, four waterfalls, 13 caverns and 10,000 stalagmites and stalactites, it is a huge limestone cave. The Magic Needle and Chair of Dragon King are famous sights in the cave.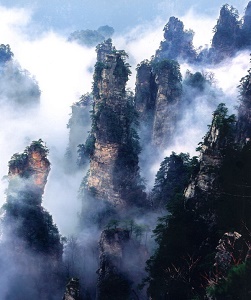 Baofeng Lake

Baofeng Lake, also named Water Paradise ,it has the typical scenery of Wulingyuan. Grotesque green peaks turn around clean water and water turn around peaks. There are two elegant small islands in the lake. Taking a boat in the lake is the most unforgettable experience becaues you could encounter the One Line Gorge, Hawk Nest Village, Guanyin Temple and Baofeng Waterfall along the lake.

West Sea 
It's located in the west of the Suoxiyu Nature Reserve,and famous for it's three "sea",they are "cloud sea","peak sea"and "forest sea".