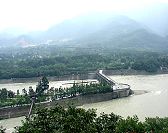 The Dujiangyan Irrigation Project is long-established water conservation works. It is 56 KM west to chengdu,lying in the middle reach of Minjiang River, which is the longest tributary of Yangtze River.It takes about 25-30 minutes to there from chengdu through express way. It is only about 17 KM from the Qingchengshan.

Around BC 250 during the Warring States Period, Libing, a governor of Shu in Qin state (present Sichuan Province) with his son directed the construction of Dujiangyan. The governor gave up the old ways of dam building which was simply intend to resist the floodwaters. Instead, he employed a new method by channeling and dividing the water to harness the Minjiang River. He accomplished this by separating the project in to two main parts: the headwork and the irrigation system. The project effectively put the flooding waters under control.
On the 29th of november 2000,Dujiangyan Irrigation system and Mt.Qingcheng were placed on the world cultural Heritage list.
The headwork consists of three projects: Yuzui, Feishayan, Baopingkou.
Yuzui: It is a long and narrow dyke built in the center of the Minjiang River, dividing Minjiang into the inner river and the outer.
Baopingkou: It is the main diversion gate to draw in water for irrigation in shape of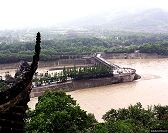 bottleneck.
Anlan Suspension Bridge: also called Couple Bridge, spans 500 meters (1641 feet) long over both the inner and outer river, right above Yuzui dyke. It used to be secured by thick bamboo rope. Although it is reinforced by tight steel wire now, visitors still can have fun by swinging back and forth on the bridge while walking across.
The Erwang Temple: It was built to commemorate Libing and his son, who together made great contributions to the project.